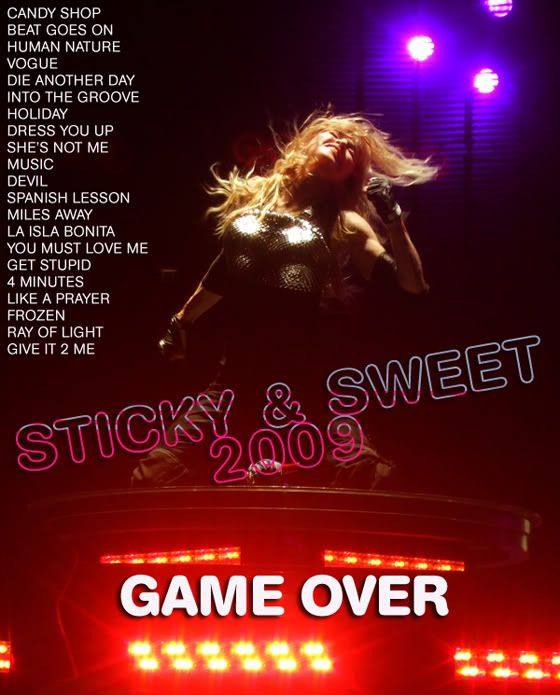 Tour Data
July
04 - London, UK - The 02 London
05 - London, UK - The O2 London
07 - Manchester, UK - MEN Arena
08 - Manchester, UK - MEN Arena - CANCELLED
09 - Paris, France - Bercy
11 - Werchter, Belgium - Festivalpark
14 - Milan, Italy - San Siro
16 - Udine, Italy - Stadio Friuli
19 - Marseille, France - Stade Velodrome - CANCELLED
21 - Barcelona, Spain - Olympic Stadium
23 - Madrid, Spain - Vicente Calderon
25 - Zaragoza, Spain - Recinto de la Feria de Zaragoza
28 - Hamburg, Germany - Trab-Arena Hamburg Bahrenfeld - CANCELLED
29 - Oslo, Norway - NO Vallehovin
30 - Oslo, Norway - NO Vallehovin
August
02 - St. Petersburg, Russia - Palace Square
04 - Tallinn, Estonia - Tallinn Song Festival Ground
06 - Helsinki, Finland - West Harbour
08 - Gothenburg, Sweden - Ullevi Stadium
09 - Gothenburg, Sweden - Ullevi Stadium
11 - Copenhagen, Denmark - Parken Stadium
13 - Prague, Chech Republic - Chadov Natural Amphitheatre
15 - Warsaw, Poland - Bemowo Airport
18 - Munich, Germany - Olympic Stadium
20 - Ljubljana, Slovenia - Hippodrome - CANCELLED
22 - Budapest, Hungary - Kincsem Park
24 - Belgrade, Serbia - USCE Park
26 - Bucharest, Romania - Parc Izvor
29 - Sofia, Bulgaria - Vasil Levski Stadium
September
01 - Tel Aviv, Israel - Hayarkon Park
02 - Tel Aviv, Israel - Hayarkon Park
Interessante tour weetjes:
Interesting tour facts:
-To everyone's surprise Madonna continued her Sticky & Sweet Tour in 2009
-Madonna switched three songs in the setlist, Heartbeat, Borderline and Hung Up were removed from the setlist and instead Holiday/MJ tribute, Dress You Up and a dance mix to Frozen/Open your Heart was performed
-Madonna played in the O2 in London a few days before Michael Jackson originally was to make his comeback for his This Is It 50 dates tour. Unfortunately the legend passed away on June 25 2009, and so Madonna paid hommage to him during Holiday. A dancer dressed up as Michael imitated him on stage. There were more Michael references during the show such as a glitter glove during Give it 2 Me, a sentence from Man in The Mirror on the screens and Don't Stop Till You Get Enough being played after the show
-Het tourboek received a new front cover and included four extra pages of live pictures from the 2008 show
-There were some technical difficulties during the tour, that unfortunately caused minor accidents with people attending as well. In Marseille the show was cancelled as the stage collapsed people were wounded and unfortunately some died.
-It was Madonna's first ever time to perform in Belgium and even though Frozen is forbidden there, she still went and performed it
-She also caused quite a stir in the media by faking fainting on stage during the MJ tribute in Holiday. What the media (and most people) didn't realize was that the fainting was part of the fact, a reaction to 'seeing' Michael Jackson
Merchandise/clipping/reviews
| | |
| --- | --- |
| Tourbook 2009 front | Tourbook 2009 back |
| | |
| London Ticket 04-07-09 | London Ticket 05-07-09 |
| | |
| Manchester ticket | Paris ticket |
| | |
| Belgium Ticket | Belgium food ticket |
| | |
| Belgium Parking card | Belgium poster |
| | |
| Belgium GC wristband | London Newspaper ad |
| | |
| London Newspaper ad | London Hot ticket |
| | |
| London Review | London Review |
| | |
| London Review | London Review |
| | |
| London Review | London Review |
| | |
| London Review | London Review |
| | |
| Manchester review | Manchester review |
| | |
| Manchester newspaper | Paris review |
| | |
| Paris review | Belgium newspaper |
| | |
| Belgium newspaper | Belgium newspaper |
| | |
| Belgium newspaper | Belgium newspaper |
| | |
| Belgium newspaper | Belgium newspaper |
| | |
| Sweden Review | Sweden Review |
| | |
| Sweden Review | Sweden Review |
| | |
| Sweden Review | Sweden Review |
| | |
| Sweden Review | Sweden Review |
| | |
| Sweden Review | Sweden Review |
| | |
| Sweden Review | Sweden Review |
| | |
| Sweden Review | Sweden Review |
| | |
| Sweden Review | Sweden Review |
| | |